Young Living
Not just essential oils!  Young Living (affectionately referred to as YL) has some of the highest frequency oils, and therefore self care, cleaning, and (most importantly) pet products I have ever experienced.  I use YL daily as part of my routine, whether it's the morning Ning Xia Red, the shampoo, the soap or deodorant I make, the supplements, and more. YL shows up throughout my day to help me with so many things. Basically I LOVE their stuff and yes I've tried the other companies but without the energetic zyng I get from Young Living.
If you are interested in exploring essential oils or other chemical free ways of living, I recommend that you sign up as a distributor and get a 24% discount off products. You only have to buy once annually to stay active, but you save more and get free stuff if you buy monthly. 
I am happy to answer any of your questions about products, my experience using Young Living over the last 12 years, or if there is something you'd like to order. Please email me at tim@timdavis.ca

Amethyst BioMat*
A device that saved my life, well at least my back. When I had my own office I had the Amethyst BioMat on the table most of the time, unless I was being self-full and using it at home for my own self-care. 
The Amethyst BioMat is the only mat of its kind to combine Far Infrared Rays, Negative Ions, and Amethyst for a true mind, body, and spirit healing experience. The Amethyst BioMat is a unique innovation in bio technology containing 17 different layers and more than 28 lbs. of amethyst crystals, which naturally produce and are superconductors of Far Infrared Rays.
Indicated for:
Muscle relaxation

Temporary increase of local circulation

Temporary relief of:

Minor muscle pain

Minor joint pain and stiffness

Joint pain associated with arthritis

Muscle spasms

Minor sprains

Minor strains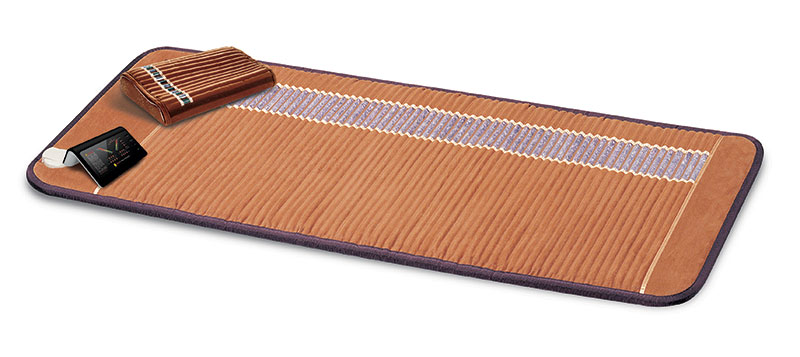 The Amethyst BioMat will envelop you in a soothing warmth that is both relaxing and therapeutic. Available worldwide and in many sizes.
Email tim@timdavis.ca if you wish to arrange the purchase of an Amethyst BioMat
*The BioMat is a registered FDA medial device and is approved by Health Canada as a class II medical device.
Recommended Reading
From My Hands and Heart by Kate Mackinnon
For those that want to understand more about what some of my training has taught me to do, my friend Kate Mackinnon wrote a fantastic book about CranioSacral Therapy, with a forward by Wayne Dyer.
 Full Body Presence by Suzanne Scurlock-Durana
My workshops with Suzanne have probably been the most transformative of my life. Full Body Presence teaches you how to settle more into yourself with its audio explorations, listening to the cues and signals of your body, while also recognizing the unconditional support that is all around us. Brilliant work necessary for a world that lives more and more in their heads. For those that are seeking to feel better physically, having a deeper sense of your body is key to releasing the long held restrictions. This book may be the next step for you.